2014 Calendar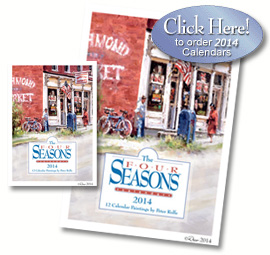 Four Seasons Publishing Art Calendars and Wall Calendars
I am happy to present our 20th Anniversary issue of the Peter Rolfe Calendar Paintings. This 2014 edition, like so many of them, is a reflection of Peter's travels and interests.
Trips to the Caribbean for a working vacation are always antidotes to a Maine winter... The February image of the Banana Cart was painted on the French island of Guadeloupe.
Savannah, Georgia is one of Peter's all time favorite places to paint. The April image is of the Gryphon Tea Room which is housed in an old 19th Century Apothecary shop and sits on one of the historic squares. November's image of the salt marsh and boats was also painted in Savannah.
June's Lobster Shacks are located in Owl's Head near where Peter actually began painting in 1969. Richmond, Maine, depicted in July's image, is on the Kennebec River and was involved in shipbuilding and the ice trade in the 1800's.
Peter has always loved painting in Italy and taking a fall trip there with other artist friends is something he often looks forward to. The September image is a hotel and cafe in Varenna, Italy which is on Lake Como. December's image is the bridge in The Boston Public Garden which Peter has painted many times in Spring, Summer, Fall and this one in Winter.
We hope you enjoy this year's selection of Peter Rolfe paintings




Caroline Denham